1. Fold the sides outward along the dotted line with the essence facing up to collect it in the center of the bag.
2. Use your thumbs to press firmly on the essence part. An opening will appear in the center of the bag and the essence will be squeezed into the mask. ※ Squeeze all the liquid onto the mask to prevent liquid residue.

3. When the essence comes into contact with the mask, carbonation will occur. Check to see if bubbles have started to form, then thoroughly massage the mask for about 20 seconds to ensure that there are no dry areas and that the essence is distributed evenly over the entire mask.
4. Take the mask out of the bag and slowly unfold it. Align it with your eyes and mouth and press it tightly against your face. (After 5 minutes, remove the mask and use your hands to blend any remaining essence into your skin.)
・Do not apply the essence remaining in the bag directly to your skin, or add it to the mask while it is on your face.
・Carbonic acid may cause irritation and redness, but it is temporary.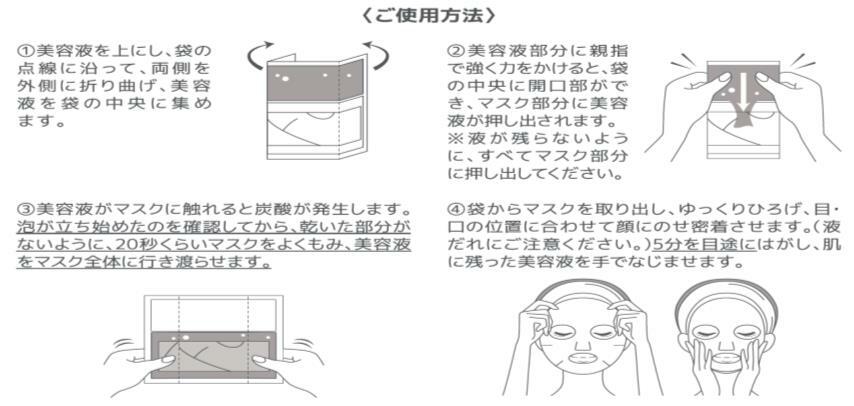 Ingredients: Water, BG, Glycerin, Butylene Glycol, Sodium Bicarbonate, Sodium Ascorbyl Phosphate, Synthetic Recombinant Oligopeptide-91, Synthetic Recombinant Oligopeptide-1, Hydrolyzed Swiftlet Extract, Glutathione, Arbutin, Gardenia Jasminoides Fruit Extract, Spirulina Maxima Extract, Palmitoyl Tripeptide-28, Acetyl Hexapeptide-8, Trifolium Pratense (Clover) Leaf Extract, Dipotassium Glycyrrhizate, Sodium Hyaluronate, Hydrolyzed Collagen, Hydrolyzed Elastin, Houttuynia Cordata Extract, Gentiana Lutea Root Extract, Sucrose, Lecithin, Synthetic Sapphire, Benzyl Alcohol, Caprylyl Glycol, Benzoic Acid, Propanediol, Sodium Cocoyl Glutamate, Sodium Hyaluronate Crosspolymer, Hydrogenated Lecithin, Triolein, 1,2-Hexanediol, Ethanol, Phenoxyethanol, PEG-40 Hydrogenated Castor Oil, Xanthan Gum, Disodium EDTA, Sodium Phosphate, Potassium Phosphate (Mask Paper), Citric Acid, Sodium Citrate, Glycerin, Xanthan Gum
※ Use with caution to ensure no abnormalities on the skin. Stop using immediately if any of the following conditions occur. If you continue to use it as is, symptoms may worsen, so we recommend that you consult a dermatologist. (1) If you experience redness, swelling, itching, irritation, discoloration (such as white spots) and skin darkening during use. (2) Whether the above abnormalities appear on the skin exposed to direct sunlight.
※ Do not use on areas with abnormalities such as scratches, swelling or plaster.
※ Be careful not to let the liquid enter the eyes. If the liquid enters the eyes, rinse immediately and do not rub. If there are still any abnormalities, please consult an ophthalmologist.
※ Do not store in a place where children can reach, in direct sunlight, or in a place with extremely high or low temperatures.